Review Generation
Generate and Manage online reviews
Review Generation is a multi-faceted reputation management solution that helps your clinic build a stronger online presence and a more positive online reputation. Google Local search top position is driven by online reviews, and so is your practice's revenue. On average, patients ratings are proven to increase sales by 18%, while 90% of people claim positive reviews influence their medical decisions.
Savvy business owners are getting serious about soliciting feedback, but generating reviews for your clinic is hard work. It's not easy reaching out to patients, not to mention directing them to review sites and asking them to share their recommendations on social media.
Medical office owners need to take this off their plate, that's where we come in.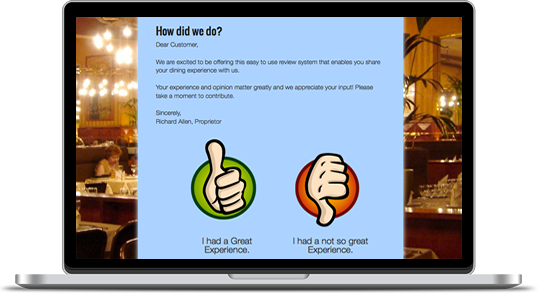 Custom Review Website for your Restaurant
It's never been easier for a patient to leave you a review online thanks to our custom review website. If a patient was happy, they click the "thumbs up" button and are prompted to leave a review on your exact review sites preset by us. If they were unhappy, they click the "thumbs down" button and are prompted to fill out a simple form that will be immediately emailed to you, thereby redirecting them away from the online review sites and giving you a chance to rectify the situation before the review hits a major review site.
How else can we get good reviews?
We contact your best patients and ask them for a review of your business by email. Links to your review profiles are embedded into each email as well as the link to your custom review website.
Many of our clients have their staff hand out business card size collateral which encourages them to visit their review portal.
Showcase your positive reviews
Review Generation encourages satisfied patients to share their feedback on major review sites like Facebook, Yelp, Google, Trip Advisor and so much more. In addition to boosting ratings and reviews on industry specific sites it also helps build trust and credibility online when happy patients share their experience with your clinic.
How would your business change if you never had to worry about online reviews again?
100% Risk Free!

No Contract. No Payment Details Taken.
Do It Yourself
Reputation Dashboard
Custom Review sites
24/7 Review Site Monitoring
Social Media Mention Tracking
Ripp-Off-Report Monitoring
BBB monitoring
Monitor Employee Social Media Accounts
Reputation Indicator
Web & Email Notification & alerts
Weekly & Monthly Trend Cloud Reports
Reputation Scores & Grading
Presence builder listings Platform
In office review kiosk
Individual Review Management
Competition Compare & Analysis
Post & Share Reviews
24×7 Customer Support

FULL Service
<< Includes all DIY features plus:
Solicit Patient Reviews
Custom email review teamplates
Office Listing & Location page    Management
Online damage control defense
Employee Defamation Protection
Promotion Collateral
Monitor Social Mentions
Forward Social Leads
Respond to Online Reviews
Respond to Social Media Support Inquiries
Monthly Reputation Audit
Dedicated Support Rep
FREE Demo
Schedule a Demo and Free Reputation Intel Report
Schedule a live demo and get a commitment free demo, MD reputation Intel Report and review. Please fill out the form below and one of our Reps will contact you shortly.